Frequently Asked Questions
We recognise that you may have a number of questions having read our consultation material and therefore we have presented a series of FAQs which we hope will complete a comprehensive overview on this consultation.
Masterplans are strategic long-term planning documents, which set the vision and implementation strategy for a future development. Masterplans provide a conceptual layout to guide future growth and development and will inform future planning applications. Masterplans focus on site specific strategies such as the scale and layout of development, mix and location of uses, transport and green infrastructure. Masterplans do not undertake detailed design and infrastructure planning as this is undertaken at the planning application stage, which would follow West Suffolk Council's approval of a Masterplan for this site
In the context of this public consultation, we are seeking to produce a masterplan that will guide all future development on the land allocated to the west of Mildenhall within the adopted Local Plan. In practice, this means that any future planning applications, for parts or the whole site, will be required to ensure general conformity to the governing principles agreed within the masterplan.
The creation of a masterplan will set out a vision and strategy for the long-term development of this site, and provide a conceptual master plan framework which will in turn help to raise and set the standards for future design and infrastructure provision.
The adopted Local Plan (Site Allocations Local Plan 2019) allocates the site as Policy SA4: Focus of growth 'Land West of Mildenhall' and seeks mixed use development of this 97ha site comprising of the following indicative uses:
1,300 dwellings, 30% affordable;
5ha employment minimum;
Primary School and Early Years;
10ha of Suitable Alternative Natural Green Space (SANG)
Strategic Open Space, Allotments;
Local Centre; and
Public Services and Leisure Facilities
More information concerning this allocation can be found in West Suffolk Council's Site Allocations Local Plan located here:  Final-SALP-September-2019.pdf (westsuffolk.gov.uk)
It is anticipated that planning applications could be submitted for development on parts of the site around Spring/Summer 2022 and a decision reached before the end of 2022.
Whilst a number of key decisions are yet to made in terms of who will deliver this development it is anticipated that construction will not commence until 2024 with delivery of the first homes in 2025/2026.
It is anticipated that this development could take up to 10 years to be completed from commencement of the first phases of development.
Design and Character Areas
Preliminary Ecological Appraisal report has been undertaken which identfies the site as primarily comprising arable land, tall ruderal, broadleaved semi- natural woodland, species-poor hedgerow (intact and defunct), scattered trees, semi-improved grassland field margins, improved grassland, introduced shrubs, hardstanding, buildings and fencing.
The findings of initial Habitat Survey work confirm that the habitats onsite have the potential to support bats (roosting and foraging), breeding birds, reptiles, Badger, Hedgehog and common assemblages of invertebrate species. The site is not considered suitable for Great Crested Newt or Hazel Dormouse. Otter and Water Vole are potential present offsite, associated with the River Lark to the south.
Further survey work will be undertaken throughout 2021.
The following mitigation will be recommended in this Masterplan and used as a basis for informing the preparation of detailed proposals that will support a planning application:
Retain existing trees and hedgerows where possible as to ensure the preservation of existing habitats on site such as field margins;
The open green spaces as part of the proposal will be connected through the use of green corridors as to permit the movement of animals and the continuation of viable populations;
Landscaping will be designed to allow bats to continue foraging and roosting on the site;
Any work to the riverbanks will be undertaken under a Natural England Licence, ensuring conservation benefit.
Overall, it is the purpose of these measures to ensure that the scheme achieves a biodiversity net gain. In other words, that there will be an improvement to the level of biodiversity through the development of the site than what existed before. This is a key component of the vision for the site as detailed on pages 14-15 of the proposed Masterplan.
This Masterplan will seek to ensure that biodiversity net gain is achieved through future planning applications.
The Breckland Special Protection Area (SPA) is within 1.3km of the site and is designated internationally as a protected habitat area. Its aim is to protect breeding and resting sites for threatened bird species in order to ensure the survival of Europe's vulnerable species.
There is a potential for significant effect to Breckland SPA through recreational disturbance (in the absence of mitigation) from the development of land west of Mildenhall in combination with other planned developments in the District. 
However, the provision of a Suitable Alternative Natural Green Space (a large natural area of public open space, known as a SANG) on site of at least 10 hectares (the equivalent of at least 14 football pitches) is incorporated alongside a range of other measures within this Masterplan. This will mitigate and offset the potential of adverse impacts from development, not only from within the Masterplan area but in combination with other development in the region.
There are no listed buildings within the site itself. However, there are a number of heritage assets that surround the application site; for instance, Wamil Hall is a Grade II listed structure situated to its south-west whilst the Church of St. Mary is a Grade 1 listed structure to its south-east.
On its south-eastern boundary the site borders Mildenhall Conservation Area which was designated by West Suffolk Council in 2009.
The initial evidence base gathering and option testing indicates that the provision of significant new areas of green infrastructure alongside retention of key existing landscaped boundaries between these heritage assets and built form in the Masterplan will minimise this impact.
An initial archaeological assessment has identified that no designated assets of archaeological interest are located within the site. Therefore, no designated archaeological remains will be adversely or physically affected by development within the Site.
During the first public consultation event Historic England did not consider that the proposal would adversely impact the setting of the Mildenhall Conservation Area.
However, they noted that the setting of St. Mary's Church is important and accordingly this has been treated sympathetically through a landscaping viewing corridor in the Masterplan.
Technical/Existing Constraints
The constraints that would be a relevant consideration in this Masterplan include utilities, odour, noise, flood zones, topography and Public Rights of Way (PROW). Further information about these constraints is detailed within the presentation boards that accompanies this public consultation event as well as Section 3 of the accompanying proposed Masterplan document.
The Landscape Framework has been designed with a focus on a multi-functional living landscape that benefits all. As such, habitats of importance (specifically trees, hedgerows and woodlands) will be retained, protected and enhanced within the scheme to provide improved habitat to protected species in the long term.
The intention is to retain as much of the existing vegetation as possible. The opportunity exists to increase significantly the level of tree cover in the area, using blocks of woodland along the western edge to help fragment views of the proposed development.
A series of interconnecting green corridors is proposed to create a network of landscaped open spaces within the site reducing the prominence of built form and integrating the development into the landscape.
The Environment Agency's indicative floodplain mapping confirms that the site is classified as being within Flood Zone 1. This means that there is a low probability of fluvial (river) and/or tidal flooding (less than 1 in 1,000-year annual probability of river and sea flooding (<0.1%) in any year). 
The Environment Agency's indicative mapping for the local area also confirms that the vast majority of the site is not susceptible to pluvial (surface water) flooding. However, there are a small number of isolated of patches which are susceptible to pluvial flooding under the medium-risk scenario (1:100-year event).
This will be achieved using a network of sustainable drainage systems, which control surface water runoff, ensuring the development does not increase the rate of surface water flows and flood risk on and off-site. These can work in a variety of ways, including: (i) transporting (conveying) surface water at existing greenfield rates through swales (ii) storing water in times of extreme rainfall events in basins, which allows water to soak (infiltrate) into the ground and (iii) on plot permeable areas.
The exact details of the sustainable urban drainage systems deployed will be fully detailed at the planning application stage and for this Masterplan we identify the key principles only.
The drainage strategy for this Masterplan follows Sustainable Urban Drainage System best practice and proposes a network of multi-functional dry basins, which will be dry except in extreme rainfall events, interlinked by swales, which are shallow, long, thin ditches (roadside and within green areas), a small amount of underground piping and on plot permeable areas before discharging into the River Lark at natural surface water flow rates.
Substantial areas of recreation and other forms of open space, such as allotments, parks, sports pitches, will be delivered as supporting infrastructure alongside the provision of new homes within this Masterplan.  The exhibition material illustrates how recreation and open spaces could be provided and integrated within the wider landscape framework.
The Masterplan provides a well-connected network of multi-functional open spaces and formal provision exceeding 17 hectares of open space in addition to over 10 hectares of SANG provision. Play spaces, known as Local Equipped Areas of Play (LEAP) and Neighbourhood Equipped Areas of Play (NEAP)  are proposed to be evenly distributed throughout the Masterplan to give good access to land north and south of West Row Road and form part of larger multi-functional open spaces.  A destination play space providing natural play is also included within the SANG.
Provision for additional allotments is made adjacent to existing allotments on Sheldrick Way and new sports pitches can be found adjacent to the existing leisure facilities at the Mildenhall Hub to the south east.
The purpose of the green routes is to provide a series of walking and cycling routes through a network of accessible natural green space landscaped corridors, which will also visually integrate this development into the existing landscape and break up the built form.
The green routes are areas of open space that will provide recreation and commuting for pedestrian and cyclists (rather than being solely dependent on the highway network) and provide direct connections east-west to the riverfront, Mildenhall Hub, the town centre and link to existing public rights of way connecting surrounding villages.
The green corridors will provide the primary connections between new housing, employment and proposed new areas of open spaces, children's play, a regional SANG, local neighbourhood centre and schools.
The east-west green links will integrate with the St. Mary's Church view corridor, provide links to Mildenhall Hub and town centre and surrounding neighbourhoods to the east and recreation ground.
The site is located adjacent to existing residential areas to the east of the site and industrial units to its north, with West Row Road crossing through the application site. These existing uses are not considered to generate significant noise and the site is considered suitable for mixed use development.
The primary sources of noise are likely to be aircraft noise from RAF Lakenheath and RAF Mildenhall and an independent Acoustic Report has been undertaken to inform the Masterplan and concluded  that there would be no noise-related reason to preclude development in accordance with the indicative Master Framework Plan option being tested through this consultation.
This exhibition indicates the airbase noise contours which fall outside of the Masterplan site.
It is not considered that site specific mitigation is required to protect the development from noise sources beyond usual acoustic treatment that is secured through building fabric and design, such as double glazed windows.
Residential development is not considered to result in any impacts relating to noise generation. The employment uses could be located in the north of the Masterplan area adjacent to the existing industrial estate where such activity already takes place separate from existing residential uses. The Local Centre is not anticipated to result in any adverse impacts from noise given the nature of the uses proposed. This could however be located close to West Row Road where there is already a number of existing vehicle trips.  Finally, the school and playing fields could be located adjacent to the existing school and sports pitches.
Any future planning application will be supported by an Acoustic Design Statement. Its purpose will be to confirm how the adverse impacts of noise will be mitigated and minimised.
An odour assessment has been carried out using emissions data to determine the likely odour concentrations to which future occupiers of the Masterplan area may be exposed to, based on the presence of the Mildenhall Sewage Treatment Works (STW) to the west.
Best practice guidance considers that where predicted odour concentrations are less than 3 OUE/m3 (European Odour Unit per cubic metre of air) then complaints are unlikely to occur. The odour dispersion modelling results indicate that the future occupiers of the Masterplan area are likely to be exposed to odour concentrations within the range 0.1 – 2.6 OUE/m3 as shown by the plan below.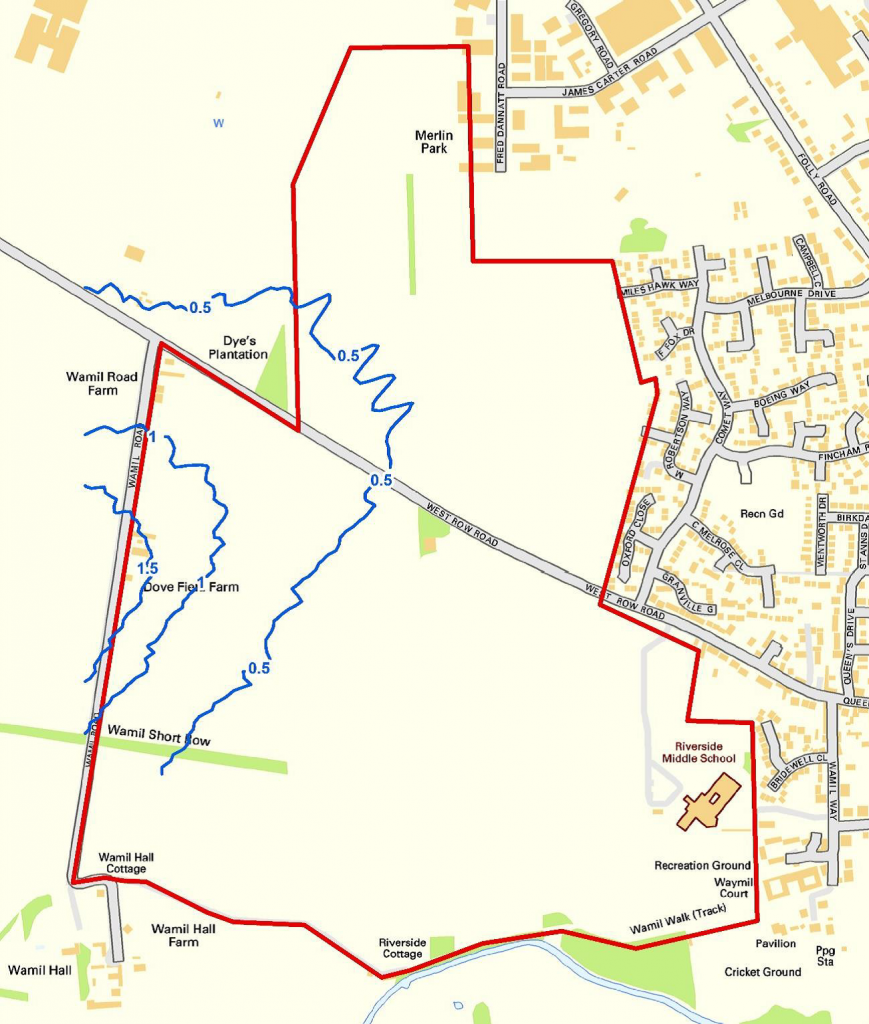 Based on the results of the odour dispersion modelling it is considered the risk of odour nuisance would be minimal, and odour does not represent a constraint to the Masterplan area. The Development will also be designed with odour in mind and ensure that there are no residential receptors located within 400m of the Mildenhall Sewage Treatment Works (STW).
The odour contour maps model Met data from the period 2015 to 2019 inclusive. This includes hourly wind speeds, wind direction, and cloud cover for the whole period as input data to model the dispersion of odour emissions. The report is based on best practice and was audited by Cambridge Environmental Research Consultants Ltd.
The delivery of the proposed Masterplan will incorporate a range of key infrastructure (as identified in the Land Use Framework) to meets the needs of the local population. This includes a new Primary School as well as a Local Centre that is likely to incorporate complementary services such as retail and community functions. This will all be in addition to the public services and facilities already being provided by the Mildenhall Hub.
In addition to the on-site facilities and services that will be provided by the proposed Masterplan, financial contributions will also be made by the developer towards additional infrastructure provision which cover both on-site and off-site requirements. This will cover aspects such as transport measures and education provision.
It is planned that the proposed development will be constructed over a series of stages or phases, rather than in one continuous process. This will help to ensure that key infrastructure is delivered in line with the number of residential units that are constructed.
Page 138 of the Masterplan provides full information on the four key stages of the development process.